Hettie Jones (left) and Joyce Johnson (right) in NYC, circa 1960.
If, throughout the semester, you've lamented the absence of female authors and lead characters in the various Beat Generation writings we've been reading, as well as the general attitudes exhibited towards women, (which have ranged from indifference and neglect to outright misogyny), then we've reached a redemptive point in the term. It's true that the Beat 50s and 60s were very phallocentric times, but in the decades since then many female voices have stepped forward to assert their important place in this time period — not just as wives, girlfriends and enablers, but also as writers. We'll conclude the year by spending a little time with two of them, and in the process, reframe our earlier readings through a new perspective.
Chief among these revisionist historians is Joyce Johnson, whose National Book Critics Circle Award-winning memoir, Minor Characters (1983) is an important document of the Beat Generation's heyday from a female perspective. A close friend of Allen Ginsberg's in New York City, Johnson (née Glassman) was set up with Jack Kerouac on a blind date by the poet, largely because he thought that she'd take good care of him. Only in her early twenties, she did just that for a few years, which coincided with the publication of On the Road and Kerouac's uneasy rise to international fame (or infamy). That's what a key portion of the book is about, however it's a terrible injustice to Johnson to treat her like some mere groupie — while she had famous friends, Minor Characters is far more importantly a story of how a woman might seek (and find) the same sort of ideological, spiritual, literary and sexual freedom that Beats did. Along the way, you'll also meet a few of her closest female friends, including the ill-fated poet Elise Cowan and Hettie Jones, who sought similar achievements, with varying levels of success.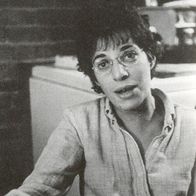 Jones, born Hettie Cohen, grew up in Queens dreaming of a freedom that wasn't possible under her family's restrictive rules. Like many others, the bright and talented young writer escaped to the hustle and bustle of Manhattan, where she was quickly absorbed into the city's literary scene and found a succession of editorial jobs. She also found love, with LeRoi Jones, and their union (as we've already discussed) was not just a romantic one, but also a literary powerhouse, producing the influential journal Yugen and the publishing imprint Totem Books. As I discussed in the Jones/Baraka write-up, the two married at a time when interracial marriages were not only socially revolutionary, but also illegal in many jurisdictions (and at the very, widely least deemed unacceptable — Hettie's family responded by disowning her). Her 1990 memoir, How I Became Hettie Jones reveals the personal transformations that defined her twenties and her delayed evolution into the writer she'd eventually become.
Here's our reading breakdown for our last four holiday-riddled weeks:
Week 12
Tuesday, Nov. 11: No Class — Veterans Day
Thursday, Nov. 13: Jones chapters 1–9
Week 13
Tuesday, Nov. 18: Jones chapters 10–18
Thursday, Nov. 20: Jones chapters 19–23; Johnson chapters 1–3
Week 14
Tuesday, Nov. 25: Johnson chapters 4–8
Thursday, Nov. 27: No Class — Thanksgiving
Week 15
Tuesday, Dec. 2: Johnson chapters 9–15
Thursday, Dec. 4: No Class — Prof. in DC
Finally, here are some supplemental materials that might be of interest to you:
The Rolling Stone Book of the Beats
)